Representatives from six companies have been shortlisted for the SME of the Year prize at this year's Constructing Excellence – SECBE Annual Awards Event. The prestigious ceremony and gala dinner will take place at the Royal Lancaster, London on 27th June.
PiLON is in very select company this year for the SME award, alongside Baxall Construction Limited, ECD Architects, Golden Houses Developments, Playle & Partners LLP and Warner Surveys.
SMEs are considered the backbone of the industry and are recognised by Constructing Excellence for their dominance of and contribution to the supply chain.  The Department for Business Innovation and Skills suggest that 99.9% of UK construction contracting businesses are SMEs and some of the greatest innovation and best practice can be identified in this sector.
Our shortlisting entry for the award focussed on how we can navigate a difficult economic environment, where public sector projects have seen a reduction in budget and spend, or projects being cancelled. How do we develop and grow the business, exceed our client's expectations whilst saving them money, plus ensure the mental health and wellbeing of our staff?
One of the many key initiatives outlined was the PILON Wellness initiative. This centred on creating an environment where staff across the business embrace a healthy lifestyle to establish a good work/life balance and to reduce work-related stress. Some of these initiatives included:
Offering staff mindfulness/mediation sessions funded by the company during lunch breaks
Flexible working arrangements such as flexible hours / working from home
Teambuilding activities and a PlayStation in the office for use on the break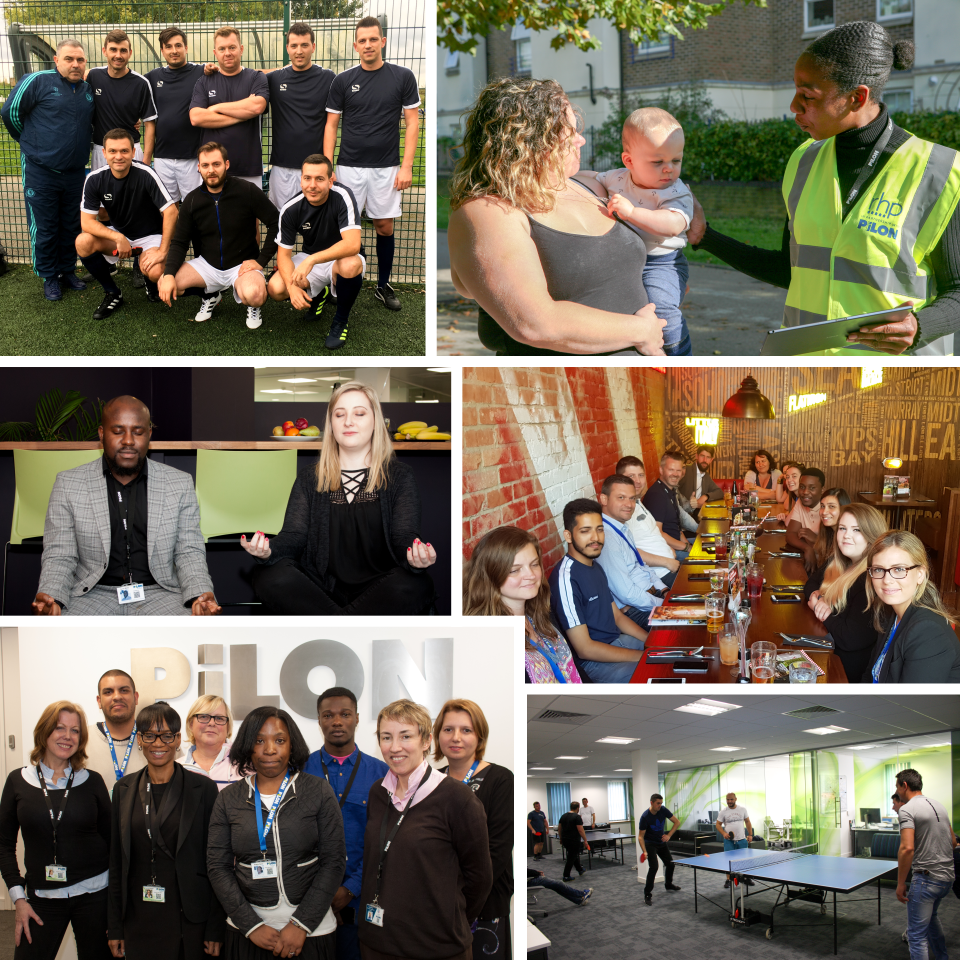 The mindfulness and mediation sessions introduced last year by the team were so successful (attended by 75% of staff) that they have continued as a permanent ongoing benefit. Staff can attend up to one session each per month and sessions take place during lunch breaks.
Investment in our employees together with engaging our supply chain and using a smarter work ethic has shown:
Tangible investment in the health and wellbeing for our staff both office and site-based by offering a range of benefits to promote better health and drive a healthy work/life balance
100% of staff have active Development and Objective Plans in place, to capture and nurture the best talent we have – creating greater job satisfaction and building company loyalty
Using technology and simple changes to develop and maintain a happy, healthy workforce has resulted in being able to deliver customer satisfaction in excess of 97% is across all our projects, with over 90% of our Clients happy to recommend our service.
We now look forward to joining top names in the industry set to battle it out for this award.
 "Congratulations to all the individuals and organisations who have been shortlisted and good luck to all on the night" PiLON